Affordable, Quality Dental Crowns Options for Birmingham, AL
Do you have a broken tooth/filling? Then dental crown maybe option for you. At our Birmingham, AL dental practice, we specialize in offering quality and affordable dental crown options for you. We understand you have options while choosing a dentist in Birmingham, and we appreciate you exploring us as your possible dental home. With our fully digital technology, our job is to quickly diagnose the problem, and our experienced dentist Dr. Gutti will present you with no stress free options for your dental concerns.
A broken tooth and/or a filling can happen due to trauma, decay or excessive wear and tear. Dental crowns are an ideal solution in situations like these to restore the broken or worn down teeth to increase their strength and improve the appearance. Crowns are also a long term solution to major dental problems.
What are Dental Crowns?
Dental Crowns, also known as "caps", are placed on your existing teeth to provide added strength to your existing teeth or implants and also to change their shape and size for better looks.
When do I need a dental crown?
Crowns are recommended on teeth when they are no longer strong to withstand the chewing biting and chewing forces. For example:
Teeth with large fillings where there is very little tooth structure left.
Teeth that have had a root canal treatment done
Teeth that are broken
Some of our patients in Birmingham, also opt for crowns as a cosmetic procedure to enhance their smile by improving their alignment, shape and color.
Dental crowns are also needed to be placed on implants that are replacing missing teeth.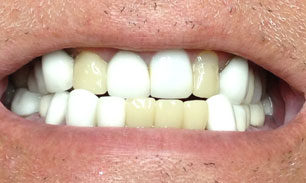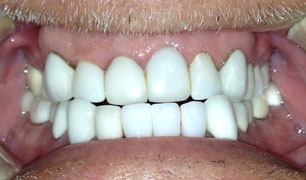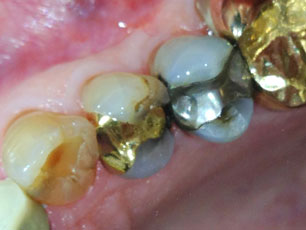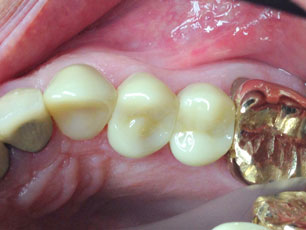 What is our process and approach towards dental crowns?
At Comfort Plus Family Dental, we will first discuss your needs with you and start the exam by taking digital X-rays and assess the tooth/teeth. There may be instances where you may think you need a crown, but Dr. Gutti may advise you otherwise to preserve as much healthy tooth structure as possible. Hence we always do a thorough exam to determine the patients needs and goals and present the various options available.
What are crowns made up of, and what kind of options do I have?
Crowns can be made of several different materials:
Gold only : Most strong – A crown made of gold is very strong however due to the high gold prices, could be one of the most expensive options available too.
Porcelain or zirconia only : Most esthetic – A crown made with zirconia or any other porcelain material would be considered a highly esthetic option because it literally blends in with the rest of the your teeth.
Porcelain with metal : Most economical
Dr. Gutti will explain these options in more detail after the assessment is done and present you with what she thinks would best for you.
How many visits does a dental crown require?
A crown usually requires two dental visits. During the first visit, the tooth is prepared for the new crown by removing any old fillings and/or decay; making impressions, shaping, and placing a temporary. The impressions are then sent to a dental lab, where the process takes about 2 weeks. The during the second appointment, the new crown will be fit to your tooth and will be cemented. To minimize number of visits, Dr. Gutti works very closely with the lab technician to give you the best fit and the best shade at the first attempt. Dr. Gutti makes the lab technician to be at the office frequently to make sure that our patients are happy with their new smile. We are not satisfied until you are satisfied.
I have an existing crown, can you repair or replace my old crown?
Dental Crowns are made of very strong materials and we have seen them last for a very long time. However, for those unforeseen circumstances, our Birmingham office does offer dental crown repair. Depending on the extent of damage, we may be able to cement your old crown else we can replace it for you.
What is the price, how much dental crowns cost?
This is one of the questions we get asked most. Good news is our office and dentist are on your side, we will provide with most affordable, economical option. Dr. Gutti will be first to point out and let you know that you may not need a dental crown, and alternative option is available. The cost of dental crowns can vary largely depending on several factors like:
Material of the crown
Dental insurance benefits
Purpose or reason for the crown, etc.
For your benefit, our experienced financial coordinator works closely with your insurance company to make sure that you get the maximum benefits towards your treatment. She will gather all details and all aspects of your insurance for you so that your out of pocket expense is minimum. Furthermore, we have several financial options to assist you as well. Be sure to check our specials page as well.
Just like your teeth, dental crowns are also prone to decay if oral hygiene is compromised. Crowns are susceptible to decay right at the gum line where the tooth meets the crown. Hence it is very important to keep up with your dental cleanings to and discuss any concerns you might have to prevent future problems and extend the life your beautiful smile. Dr. Gutti and team will explain will go over with you in detail on steps to keep your dental crown clean and healthy.
Are there cons, what about dental crowns pain?
This is one of our frequent questions we get as well. We will be first to admit that getting a dental crown put in is not something pleasant you look forward to, however, this is one of the excellent options for restoring your smile and long term oral health. Staying true to our name, our motto – your comfort is our priority, we will do everything possible to make your visit as comfortable as possible. We have noise cancelling head phones, comfortable rugs and other amenities to make your visit comfortable.
What is the recovery process with dental crown, do I need to take time off?
There is minimal to no pain involved with a dental crown. You should be able to resume your normal activity in a few hours.
Crowns
Should you have any questions call us today, thank you for considering us for your and your family's dental needs, we look forward to serving you.
Accepting New Patients
We are now accepting new patients (we take Bluecross (BCBS), Untited, Medicaid and 20+ other insurances, see below) and serving Center Point, Birmingham, Roebuck, Trussville, Pinson, Clay, Tarrant City, Leeds, Moody, Gardendale, Fultondale, Springville, Midfield, Pell City, Argo, Warrior, Huffman, other surrounding areas in Alabama.
Check our limited time special below, click on the coupon for more details. To get the discounted price, coupon must be presented.