Dentures in Birmingham, AL (Alabama)
Dentures? When do I need them:
From Birmingham, Al and looking for new dentures or repair, not sure if it is right option for you?
Teeth are an essential part of you. If you have severely broken or compromised teeth, that can affect your personal and social life. With broken or fractured teeth, you are hesitant to smile back at friends and family. You are also unable to enjoy that delicious meal because you are either in pain or are uncomfortable with your smile. Whether the reason be poor dental health , trauma or periodontal disease, you deserve a second chance to a beautiful confident smile. And that is exactly what we aim to achieve with our patients when you call our Birmingham office. Dentures are one of many options available to restore your smile and confidence by replacing missing teeth.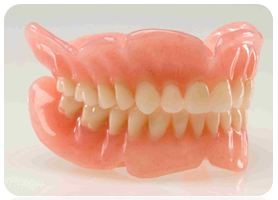 What are dentures?
A denture is a removable appliance that is designed to replace your missing teeth. If the denture is designed to replace all your natural teeth, it is called a complete denture. However if the denture replaces only a few teeth while keeping the other healthy teeth intact, it is called a partial denture.
Teeth loss can make patients lose look old because the teeth are no longer present to support the facial muscles. Hence tooth loss can make you look older than what you really are. So dentures are not only important to maintain a healthy lifestyle but also to improve your smile and confidence.
Denture types in Birmingham, AL
What are the different kinds of Complete Dentures?
There are 2 basic types of dentures we provide at our Birmingham dental office.
Conventional Dentures

This kind of complete denture is made after the teeth are extracted and the gums have healed. Since the healing process may take several months, the entire process for conventional dentures may take several months.

Immediate Dentures

Unlike Conventional dentures, immediate dentures are made by taking impressions of your teeth before the they are extracted and are placed in the mouth as soon as the teeth are extracted. Thus you don't have to be without any teeth at any moment of time. As the bones and gums continue to heal after the extractions, you will need one or more relines to retain the fit the denture.
Getting used to your denture:
Wearing a new complete denture may feel awkward for the first few weeks and you will need to get used to it. Dr. Gutti, your Birmingham dentist, will show you how to take your denture in and out as it requires some practice. You may notice a temporary increase in your saliva flow. You can also have difficulty chewing and talking or may even feel like the dentures are loose. As you get used to your dentures, these issues do resolve on their own. You must keep up with your follow up appointments to ensure proper fit of your dentures. Before you leave our office, you will also be given instructions of how to take care of them as the longevity of your denture will depend on its care.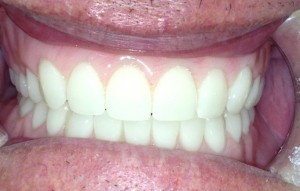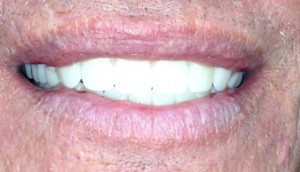 Taking Care of Your Denture
Dentures are a long term investment for most of you. So it is very essential that you protect your investment with some simple steps:
A soft bristle toothbrush should be used to clean your dentures with a non-abrasive cleaner. Do not use toothpaste on your denture as this can scratch the surface of the denture and cause bacterial growth.
Brush your cheeks, gums , roof of the mouth and tongue to remove plaque and prevent bad breath.
Rinse your dentures after meals to remove food and debris.
Take your dentures out at night and soak them in water to prevent damage.
Denture Repair
Dentures, when taken care of, can last for a very long time. However, due to some unfortunate circumstances, you may need to get your denture repaired. The most common denture repairs that we help our patients in Birmingham are denture fracture, dislodged denture tooth etc. In most cases, we may be able to get your denture back the same day because we realize that not everybody has an
Accepting New Patients
We are now accepting new patients (we take Bluecross (BCBS), Untited, Medicaid and 20+ other insurances, see below) and serving Center Point, Birmingham, Roebuck, Trussville, Pinson, Clay, Tarrant City, Leeds, Moody, Gardendale, Fultondale, Springville, Midfield, Pell City, Argo, Warrior, Huffman, other surrounding areas in Alabama.
View our patients Dentures Treatment Results