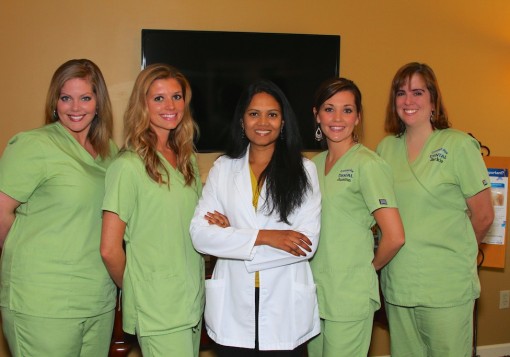 Dr. Sudha Gutti

Dr. Sudha Gutti graduated from University of Alabama at Birmingham School of Dentistry in 2010.She is a member of the American Dental Association, Alabama Dental Association, and the Birmingham District Dental Society.Prior to dental school, Dr. Gutti worked as a software engineer in India after obtaining a Bachelor's of Technology in 2001. Dr. Gutti has been married to her husband, Sri, for nine years. Apart from being a dentist and a business owner, she is also the mother of three beautiful children. In her spare time she enjoys spending time with her family, helping her husband with his business, gardening, reading and playing with her children.

Jackie Kelley – Office Manager/Financial Co-ordinator

Jackie began her dental career in 1988 with a dental practice in Virginia. She started out as an assistant and eventually moved to the front desk where she found her passion for insurance billing. Jackie moved to Alabama to be closer to family and later met and married the love of her life, Terry. Jackie and Terry live in Cordova where Terry is the pastor of Sleepy Holler Independent. Jackie enjoys drawing, painting and playing RPG video games in her spare time.

Abby Garcia – Dental Assistant

Born and raised in Texas, Abby moved to Alabama at the age of 14. She has always had a passion for the importance of good dental health. As a child Abby enjoyed dentist trips and dental checkups. Growing up, Abby wanted to be a part of a dental team that made sure people had great oral health. Abby believes that by taking care of your dental health, you will have much more to look forward to in life. With all this in mind, becoming a dental assistant was natural and perfect career path for her. In free time, Abby enjoys spending time with her family, listening to music and shopping. Abby is fluent in Spanish and will be our liaison to the Spanish speaking greater Hispanic community.

Tavia Cook – Hygienist

Tavia Cook brings in 36 years of experience in the dental industry as a dental assistant and dental hygienist. Tavia is passionate about her profession, and stays up-to-date with latest advancements in the dental field to provide you with the best dental care. She genuinely cares her about her patients, and perhaps is one of the best dental hygienists you will meet so far, as described by one of our patients. Originally from the Odenville/Moody area, Tavia was a member of the National Honor Society who graduated in the top 25% of her high school class. Tavia is the former state vice president of Health Occupations Students of America and a former member of Alabama's SMORT dental forensics team. She is active in many local charities, including suicide prevention and education, and is on the board of directors for the Broken Soldier Foundation. In her spare time, Tavia enjoys spending time with her 3 grown children and her 3 granddaughters, cooking and entertaining for friends and family, and watching Alabama football.
Best Crowns, Bridges, Root Canal, Dentures, Fillings